IFFM Team
The Indian Film Festival of Melbourne is a Victorian Government initiative that aims to strengthen ties between the Indian film industry and Victoria.
Festival Director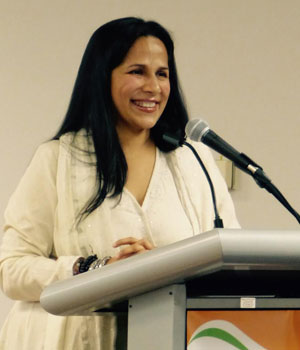 Mitu Bhowmick Lange
Mitu Bhowmick Lange is currently the director of Mind Blowing Films, a film production/distribution company which specialises in Indian cinema.

Mitu worked in Bombay for 6 years directing several TV shows including entertainment, news and fashion magazine programs and a daily breakfast show for most of the leading channels including BBC World, Star Plus, Zee TV and Sony TV. Mitu wrote and directed the multi award-winning documentary, Watch without Prejudice, on the impact of violence on the children of Kashmir.

Since living in Australia, Mitu has brought in and produced several Indian productions to Australia, including producing 13 episodes shot in Australia of India's number 1 daily television serial Kahani Ghar Ghar Kii (similar to Neighbours), Bollywood film Koi Aap Saa and blockbusters like Salaam Namaste , Chak De India , Bachna Aye Haseeno , Main Aurr Mrs Khanna , Thoda Pyar Thoda Magic , Love Aaj kal and several leading television commercials with international cricketers made for the Indian market.

Mitu is the Festival Director of the Indian Film Festival - Bollywood and Beyond - ANZ , and the Indian Film Festival of Melbourne presented by the Victorian Government .She is presently working on the 4 part series - New India. The first part 'Spice Girls of India' has been the official selection at the Feminist Film Festival of London. Mitu also represents the prestigious International Film Festival of India held annually in Goa as their curator for films from Australia and New Zealand.
Festival Curator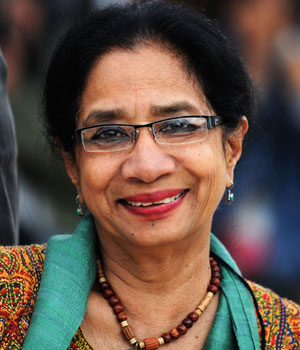 Uma da Cunha
One of a tiny band of people in Indian cinema, spans vital fields of the art and industry, combining several faculties.: She networks, facilitates, promotes, communicates and does so domestically and internationally. She works in three specific areas related to film: programming, writing and casting. Her film career began in 1974 when she started organizing film events for the Indian government. She then went on to programme and represent festivals in India and abroad. She is the India representative for programming for the Toronto film festival and is the Founder-Advisor of Indian film festivals held in London, Los Angeles, Stuttgart, Florence and Houston.She programmes for the Mumbai International Film Festival and the Kerala Film Festival. Her work as casting director includes films such as Monsoon Wedding, Holy Smoke, Lagaan and Water, among others.

She is also the Founder Editor of a film-based quarterly magazine Film India Worldwide, published out of Mumbai which is available on subscription basis and comes out in time at major film festivals, viz Cannes, Toronto, IFFI Goa and Berlin. The magazine looks ahead to fill the overlap between Indian cinema and world cinema, in terms of their needs and resources. She covers international festivals for Mumbai Mirror (The Times of India daily journal). She has been contributing the India chapter for the International Film Guide (London) for many years. Uma has contributed research and chapters on Indian cinema for leading publishing houses in Italy, Japan and Korea. Her next objective is to start mini film festivals in the name of Film India Worldwide, starting with Mumbai, her city of residence. At the 2009 Cannes International Film Festival, da Cunha was a member of the Un Certain Regard international jury and FIPRESCI jury member at the 2011 Busan International Film Festival.
Festival Publicist
Miranda Brown (Miranda Brown Publicity) and Abhishek Thukral (Hardly Anonymous)
Festival Team
Divya Thaper | Aditi Gupta | Shinasa Enayeth | Geetika Bindra | Siddharth Murthy | Jenai Tomlinsen | Leanne Tonkes | Tracey Browning | Narumon Chow | Lisa Ting | Lucas Sa | Rohan Fernandes | Megha Pabbathi | Pamela Chopra | Ross Fizgerald | Rajeev Masand | Michelle Gater | Peter Nikolakakos | Andrew Antasios | Kanika Vasudeva | Ranjodh Singh | Tonee Sethi | Avtar Panesar | Jinsu John | Nikkhil Advani | Shibhasish Sarkar | Dhruv S Sinha | Gayathiri Guliani | Vivek Krishnani | Shanti Sivaram | Gayatri Gulati
Festival Writer
Harish Adhitya, Andy
Festival Trailers and AV
Mitesh Soni
Festival Artwork
Theodore Sariklis, Vishakha Bhuwania